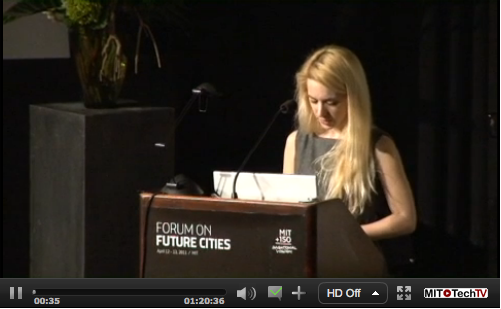 Some more pecha kucha presentations on "Changing research"
from the Forum on Future Cities.
"Changing Life" Panel Presentations from
Senseable City Lab | Forum on Future Cities, April 2011
The Digital Water Pavillon has been designed and built for the Expo in Zaragoza 2008 as a tourit office and information point for the Digital Mile project. Its facade is made of a digitally controlled water curtain, acting as a permeable division between outside and inside.
It contains over three thousand digitally-operated solenoid valves, twelve hydraulic pistons, several dozen oil and water pumps, a camera-operated control system, a good deal of controlling software, and many other components.
The building itself seems like a kinetic object, sensing and reacting to the nearby environment and able to transform not only its wet surface, but also its shape according to the current usage. It is becoming a central point for retrieving information, but even more importantly for playful interaction, where people are enjoying themselves.
The Pavilion is down, in closed operational mode. The roof is on the ground, covered by a thin layer of water. Only two volumes in glass, containing the Digital Mile info point and the tourist office, project upwards. It is a new medium, and a rather exceptional one. It is made of thousands of closely spaced solenoid valves put in a row along a pipe suspended in the air. The valves can be opened and closed, at high frequency, via computerized controls. This produces a curtain of falling water with gaps at specified points – a pattern of pixels created from air and water instead of illuminated points on a screen.
The entire surface becomes a one-bit-deep digital display continuously scrolling downwards. Something like an inkjet printer on a huge scale. So, how to make really fluid, reconfigurable architecture? Our building aims to stand as a possible answer to that endeavor. Fluid in the literal sense of the word. But also fluid as a reconfigurable, responsive building. The difference between wall and door can disappear. Facades can become a continuous medium that open and close interactively. The water itself is dynamic: it can display graphics, patterns and text. But, most importantly, it can almost become alive with patterns that are generated in real time, replicated from one point to another and which respond to the nearby environment. The presence of people can be sensed by the DWP and this plays an important role in the dynamic process, allowing waves and other distortions to be generated.
Carlo Ratti, director of the Senseable City Lab at MIT, describes the project in his talk at LIFT Conference (towards the end, around 17min 50 sec):
Carlo Ratti "The Sensable City" (Lift09 EN) from Lift Conference on Vimeo.
Project partners included: